Making your own copy of Brian's Red Special guitar is no easy task. The complex construction is a challenge to even an experienced professional luthier. Brian's tremolo/bridge arrangement is also a unique system, just to make it even harder to copy! On this page are details of some of the people who have made their own copies of Brian's guitar and pictures of some of their creations. These guys are the real heroes – folks who have gone to extraordinary time and effort to make their own copy. If you want to add your name, pictures and sound files of your guitar to the list or if you have new details to add please email us
---
Name

Country

Year

Group

Colour/Special

-Brian May
U.K.
'63
Queen
The Original!
-Nick Didkovsky
U.S.
'78
Doctor Nerve
Construction incomplete, ebony fretboard, birch neck, oak body, Dimarzio pickup.
.Nicknamed "The Red Shredder". Pic
-Stephan Möller
Germany
'84
Burns Split-sound pickups, Kahler tremolo, buffer preamp inside, one piece neck-through design, mahogany body (no binding). Pic . Sound File
-Darran Potter
U.K.
'85
Solid mahogany, DiMarzio pickups
-Stephane Cote
Canada
'89
African padouk body and neck, ebony fretboard. Hand wound pickups.
-Diego Laurenti
Italy
'94
Mahogany body, teak neck, ebony fingerboard, 50s pickups
-C Pattison
U.K.
'93
Only shape based around R.S., made from stuff laying around the house: bird tray, carpet retainer, old radio bits, coat hangers, old paint, bolt thread,etc. Pic
-Diego Andreacchio
Argentina
'95
DiMarzio Pickups, oak and mahogany construcion
-Jeremy Turner
U.K.
'95
DiMarzio Pickups
-Laurens Gardeniers
Netherlands
'96
Adeson pickups fitted with Kent Armstrong Tri-Sonic covers, Brian May-style bridge and tremolo
-Samule Bueno
Brasil
'97
Based on the Red Special
-Kai Schonefeld
Germany
DiMarzio Pickups
-Adam Marshall
U.K.
Oak wood and brass dots and pickguard, Dimarzio Pickups
-Gary Taylor
U.K.
-Mark Reynolds
U.K.
'97
Brian has seen and played Mark's guitar!
-Iñigo Latasa
Spain
'98
-Andrew G. Reid
Canada
'98
2 single coils + 1 humbucker
-Barry Savage
U.K.
'99
Kahler trem, Tri-sonic pickups, thinner neck than Brian's guitar, no binding on back of body
-Jason Walsh
U.K.
'99
2 Humbuckers
-Scott Humphrey
U.S.
'00
2 Burns Tri-Sonic + 1 Kent Armstrong pickups
-Javier Moldes
Spain
'00
Left handed, DiMarzio pickups, handmade tremolo
-Esteban Anderson
Argentina
'00
Oak and mahogany construction, Original 60's Tri-Sonic pickups, Schaller locking tuners with Gotoh perloid tips
-Arthur Ridler
U.K.
'00
Richard Cockburn new owner. Andermay replica knobs. Pic
-Doron Markowitz
U.S.
'02
Two copies! Feature exotic woods like purple-heart, zebra and cherry. 25.5″ scale length.
-Roman Laszlo
Germany
'02
Based on red special. Custom made knife-edge tremolo.
Burns Trisonic pickups. Original Red Special Wiring. Aditional guitar
synthesizer pickup. Pic
-Francisco Calgaro
Argentina
'03
Dios Salve a la Reina
Rebuild by AnderMay Guitars in 2009. Tri-Sonic pickups, "Schaller style" locking tuners fitted with Gotoh perloid tips, modified Wilkinson roller bridge. Pic
-Iain Angell
U.K.
'03
Blockboard, oak and mahogany construction, KA Burns Tri-Sonic pickups. "Andermay" bridge, trem and knobs
-Sami-Petri Salonen
Finland
'03
Cedar wood with oak centre block, Kent Armstrong Burns Tri-Sonic pickups, Schaller bridge and tuners
-Matt Wickham
U.K.
'03
Mahogany body and neck, rosewood fretboard, Graeme Walker trem, Adeson pickups
-Nigel Reilly
U.K
'04
Oak, mahogany and blockboard construction, Burns Tri-Sonic pickups
-Esa-Pekka "Pete" Parviainen
Finland
'04
Mahogany body, alder centre block and rosewood fretboard, Burns Tri-Sonic pickups.
-Matias Nicolas Figueroa
Argentina
'04
Mahogany neck, Locust wood fretboard and central block of the body, playwood insteat of the blockboard. Only 14 years old when he build it!. Pic
–Raúl González Antón
Spain
'04
Oak and Beech body, Beech and Rosewood neck, Sperzel locking tuners, Seymour Duncan Quarter Pound pickups in neck and middle position and Seymour Duncan JB mini humbucker in the bridge. Pic
-Eduardo Martínez Escobedo
Mexico
'05
Krait
Nickname "Sofía", oak and mahogany construction (a Mexican substitute was used instead of the blockboard), KA Tri-Sonics "V", Sperzel locking tuners. Pic
-Ronny Scheithauer
Germany
'05
No trem, alder body, 22 frets mahogany neck, Fender single coil style pickups with chrome covers and different wiring. Pic
-Filipe Sousa
Portugal
'05
Oak, blockboard and mahogany construction, custom made bridge, knobs and trem. Adeson pickups and Gotoh locking tuners with white tips . Pic
-Doron Markowitz
U.S.
'05
Constructed from 47 different pieces of wood using various exotic and domestic timbers, Tri-Sonic pickups wired in series/parallel, Washburn Wonderbar tremolo,Gotoh locking tuners. Pic
-Matt Wickham
U.K.
'06
RS protoype made for a friend. Pine core block board body with oak inserts, mahogany neck with oak fingerboard painted black and mop inlays, roller bridge from Redspecialparts.com, original knife edge tremolo, arm made by Graeme Walker, Tri-sonic pickups rewound by Adeson, Schaller locking tunners, original truss rod design, Fretted with stainless steel frets. Pic
-Ronny Scheithaver
Germany
'06
Mahogany body, maple neck with 22 frets, 2 Gibson PAF Custom Humbuckers pickups and EP686 500K pots. Pic
-Matt Wickham
U.K.
'06
Semi hollowed block board body with oak inserts, custom built roller bridge by Filipe and knife edge tremolo system, made by Tim (Queen 2). Schaller locking tunners. New spec Adeson pickups with rubber inserts. Pic
-Ronny Scheithaver
Germany
'06
Alder body with red mahogany finish, maple neck with 21 frets rosewood fretborad, 3 Johnson EMG single coils pickups, vintage trem system. Pic
-Filipe Sousa
Portugal
'06
Oak, blockboard and mahogany construction, custom made bridge, knobs and trem. Adeson pickups (BM spec) and Schaller locking tuners with white tips. Pic
-Esteban Anderson
Argentina
'07
Oak, blockboard and mahogany construction, hand shaped mother of pearl buttons, custom made bridge and trem, modified Switchcraft white switches. KZ Guitar Works knobs, Kent Armstrong pickups modified by Adeson (BM spec) and Schaller locking tuners with white tips. Signed by Brian May on the headstock. Pic
– Ronny Scheithaver
Germany
'07
Name: "Custom Special Retop". Alder body, tiger stripe maple with rosewood fingerboard, Fender Fat 50´s Custom Shop Pickups, Red Special Wiring and 2 Point Tremolo. Pic
-Holger Hergesell
Germany
'07
Oak and mahogany body construction, rosewood fretboard and mahogany neck glued to the body, home made bridge and trem, Burns Tri-Sonic. Pic
-Ron Bacon
U.S.
'07
Oak and Plywood body, mahogany neck with oak fingerboard, homemade tremolo. Pic
-Ron Bacon
U.S.
'07
Left handed. Oak and Plywood body, mahogany neck with oak fingerboard, homemade tremolo. Pic
-Matt Wickham
U.K.
'08
Oak, blockboard and mahogany construction (fingerboard from Chris Mahoney), Trem + Bridge made by Tim (Queen II), knobs by Chris Mahoney, 220k Pots, 0.022 oil paper capacitor, Burns Brian May signiture pickups, mother of pearl Inlays, medium stainless steel fret wire, bakelite string guide, Schaller locking tuners with Ghoto Tips. Pic
-Martiniano Arrieta
Argentina
'09
Body and neck made of Cancharana, ebony fretboard, Adeson pickups. Pic
-Kevan Tildesley
U.K.
'09
Mahogany neck and body, ebony finger board, Tri-Sonics pickups, Schaller locking tuners, RedSpecialParts tremolo and bridge, KZ knobs and switches, Rustins plastic coating. Pic
–Christian Atalaya Cordova
Peru
'12
Adeson Burns Tri-Sonic "Vintage" pickups, Fender tremolo, Ishpingo (Peruvian wood) and Mahogany (extracted from old furniture) body, Cedar neck and fingerboard made of Huytaco (Peruvian wood extremely hard), inlays and binding made of PVC , bone nut, Grover tuners. Pic
–Doron Markowitz
U.S.
'12
Body made of bubinga, poplar and lauan plywood, butternut and walnut neck with wenge fretboard, Thumblock chrome tuners, Mustang tremolo, Wilkinson roller bridge, Tri-Sonic pickups and Doron's "Ultimate Red Special" wiring, with master switch and series/parallel. Pic
---
Mark Reynolds' Copy
This one-off copy was built in 1997 by fan Mark Reynolds. Mark was involved in Greg Fryer's restoration of the Old Lady herself and the pictures here show Mark with his guitar at Brian's house. The lucky guy got to meet Brian, who actually played Mark's guitar (and liked it!) and he got to try out his guitar on Brian's amps, including the fabled Deacy amp! Some people have all the luck…
---
Scott Humphrey's Copy
This guitar was made by US-based fan Scott Humphrey in 2000-2001. Scott has also built several treble boosters and amps using different circuits and his website features mp3's of his guitar/booster/amp setups in action.
---
Esteban Anderson's Copy
This is my guitar built some years ago.I am currently building a new improved Red Special copy. Click here to see pictures of my new guitar under construction.
---
Iain Angell's copy
Iain Angell completed his guitar during 2003. He built his guitar using oak, blockboard and mahogany, so the construction is very close to Brian's original.
---
Sami-Petri Salonen's copy
Sami built his version of the Red Special with his father – just like Brian did nearly 40 years earlier! The wood is cedar, because they couldn't get good quality mahogany and the centre block is oak. The overall look and finish of the guitar are excellent.
---
Nigel Reilly's copy
Nigel completed his guitar early in 2004. The construction is very close to Brian's original and features wood salvaged from an old door frame, an oak table and a window architrave. The pickups are Burns Tri-Sonics and it is another excellent copy. Nigel is planning to make another two guitars in 2004 – that should keep him busy!
---
Esa-Pekka "Pete" Parviainen's copy
I'm continually amazed by the high quality guitars that so many people have made and got incredibly close to Brian's original. Pete's copy shown here is no exception and it features an alder centre block, mahogany body and rosewood fretboard. Lovely!
---
Matt Wickham's copy
This is youngster Matt's first attempt at guitar making! The body and neck are mahogany, with a rosewood fretboard. The guitar also features a Schaller bridge, Graeme Walker trem and Adeson pickups. An excellent job, Matt!.
Matt recently finished a Red Special prototype for a friend and his own second replica!!!!, take a look at his website to see the progress!
---
Stephane Cote's copy
Stephane's guitar is one of the really early copies, built in 1989 when information about the Red Special was very hard to find. Stephane built the guitar whilst at highschool, which included milling the trem and hand winding the pickups himself. Not as accurate as some of the later copies, but still an excellent guitar.
---
Doron Markowitz's copies
Doron's guitars are based on the Red Special, but customised to his personal preferences. The top guitar features a neck-through-body makore wood construction, purpleheart fret dots, paduak scratchplate and wonderbar tremolo. Both guitars have 25.5″ scale length.
---
Diego Andreacchio's copy
This is Diego Andreacchio's copy from Argentina. He started the guitar in 1994 and finish it at the end of 1995. Probably the first replica in Argentina! and one of the coolest that I've ever seen. He used mahogany, oak and ebony for the construction, DiMarzio pickups inside of the chromed brass covers and a tremolo system of his own design.
---
Laurens Gardeniers copy
Laurens started his project in 1995, at that time information about the Red Special design also was very hard to find. Woods used was oak, mahogany and ebony. He used Schaller trem and bridge units. The DiMarzio BHM edition pickups was the natural choice at that time. Now after ten years of loyal service Laurens made a major improvement in his guitar. He changed the old DiMarzios for a new set of Adeson pickups enclosed in Kent Armstrong Tri-Sonic covers, Schaller bridge and trem were replaced for custom made Red Special style units and a new pickguard and white switches were added.
---
Filipe Sousa's copy

Another wonderful copy, this time from Portugal. This is Filipe Sousa's copy, the project started in September 2005 and it was completed in December. If you want more information about the making of this replica click here .
---
John Birch Brian May Guitar
English luthier John Birch produced a custom copy of the Red Special for Brian. This was a one-off and was not sold commercially. The Birch guitar was a gold colour and certainly looked the part, but Brian was never happy with the sound. He threw it off a high stage in frustration and it was smashed to pieces.
John Birch also sells a commercially available copy of the guitar he made for Brian. See my guide to commercial Brian May gear for more info.
---
Japanese Custom Copy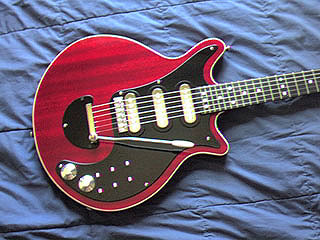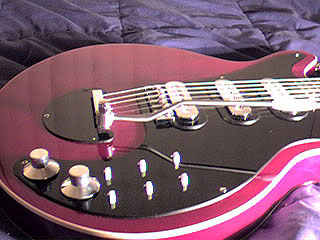 This beautiful guitar is a Japanese custom copy of Brian's Red Special. The guitar is from Kids custom guitar shop in Tokyo and it was sold a while back by Malden Guitars. Thanks to Malden for giving permission to show these great pictures.